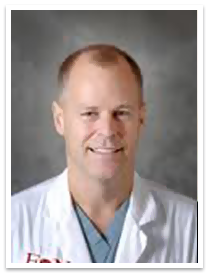 Michael D. Sombeck, MD



Dr. Sombeck was raised in southern Illinois. He received his medical degree from Southern Illinois University in Springfield, Illinois. Dr. Sombeck completed his internship in internal medicine at Southern Illinois University and his residency in radiation oncology at the University of Florida College of Medicine. Dr. Sombeck served as an Assistant Professor at the University of Florida College of Medicine before joining Florida Oncology Network, P.A.

For several years, Dr. Sombeck has served as a member of Florida Hospital's Institutional Review Board, the body which reviews and oversees all investigational protocols and medical devices under study at the hospital.

Dr. Sombeck also has completed specialized training in prostate brachytherapy at the Northwest Tumor Institute in Seattle, Washington, in vascular brachytherapy, and in Gamma Knife

radiosurgery at the University of Pittsburgh.

Dr. Sombeck is board certified in radiation oncology.