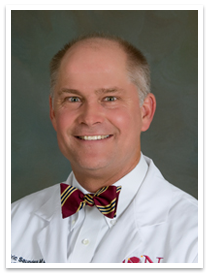 Eric L. Saunders, MD



Dr. Saunders was raised in southern California. He earned his undergraduate degree at the University of Southern California in Los Angeles and his medical degree from Vanderbilt University in Nashville, Tennessee. He completed a transitional internship at the Vanderbilt University Hospital, followed by a residency in radiation oncology Vanderbilt University and at the University of California Los Angeles. Dr. Saunders also completed a radiobiology research fellowship at Vanderbilt University, where he studied the effects of radiation damage on cells in vitro.

Following residency, Dr. Saunders spent four years in the U.S. Navy, where he served as the Division Head for Radiation Oncology at the Naval Medical Center in San Diego. Thereafter, Dr. Saunders served as an assistant clinical professor in radiation oncology at the University of California San Diego Medical Center before relocating to central Florida in 1998 to join Florida Oncology Network, P.A.

Dr. Saunders has received specialized training in prostate brachytherapy, in vascular brachytherapy for the prevention of arterial restenosis, and in Gamma Knife Radiosurgery at the University of Pittsburgh.

Dr. Saunders is board certified in radiation oncology.