---
Meningiomas:
94% tumor control rate
10% edema risk 2% will require surgical removal of tumor for treatment of edema
2% risk of permanent injury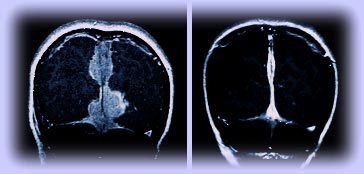 ---
Acoustic Neuromas:
97% tumor control rate
less than 1% facial neuropathy risk (near-zero risk in tumors less than 1 cm in diameter)
60% hearing preservation rate.
---
Brain Metastases: (regardless of tissue type)
90% tumor control rate
6% edema risk
2% permanent deficit risk
More than one tumor may be treated in one session.

---
Glioblastoma Multiforme: (Astrocytoma Grade 4) and Anaplastic Astrocytomas (Grade 3)
93% response rate with median tumor progression free interval of 12 months
Improvement in overall survival. Synergistic when combined with Immunotherapy. Some patients are now more than 4 years from their initial diagnosis treated with this powerful regimen. Patients and their family members of survivors of this disease using this regimen may be contacted.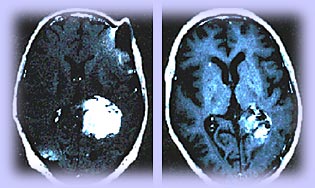 ---
Primary Low Grade Gliomas of the Brain:
95% response rate.
Follow-up not yet sufficient for results.
---
Craniopharyngiomas, Pituitary Adenomas, Ependymomas, Medulloblastomas, Pineal tumors and other types:
From 80-98% tumor control rates.
---
Arteriovenous Malformations: (AVMs):
80% complete obliteration by 2 years
6% complication rate
3% permanent complication rate.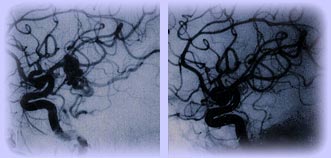 ---
Tremor of Parkinson's Disease (Gamma Knife thalamotomy)
80% Good to excellent relief of tremor occurring within 3 months of treatment
---
Trigeminal Neuralgia: (Tic Doulereux)
75% Good to excellent relief of pain
55% are pain-free off all medication. The remained of patients are pain-free with lowered dosages of medications.
The effect of treatment takes an average of 4 weeks to occur post Gamma Knife.
8% risk of sensory loss on the face.
Near zero risk of anesthesia dolorosa.